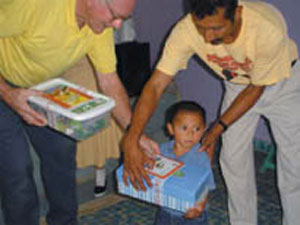 In the year 2000, we started participating in Operation Christmas Child, a worldwide outreach, operated by Samaritan's Purse, to needy, sick, and orphaned children in nearly 100 countries throughout the world. Many of the recipients are left homeless by natural disasters, ravaged by uncontrolled disease, orphaned by terrorism or war, and just innocent victims of poverty in a society that leaves them little hope.
By packing simple shoe boxes, covered with colorful Christmas wrap, with small gifts including school supplies, toys, clothing, hygienic items and candy, we have provided a "Christmas" in a small measure for these otherwise destitute children. Before final shipment, the Christmas story in book form entitled "The Greatest Gift of All" is inserted into each box in the language of the country to which it will be delivered.
The gifts are distributed through partnering ministries of Samaritan's Purse – usually as a culminating activity of a festive meeting or a church or village gathering where the gospel has been preached. In most cases, follow-up takes place through local churches or missions. Many children, and sometimes whole families, have come to know Christ through this program.
If you would like to help support this program, go to our giving page, select add or change fund and choose "Operation Christmas Child."